There is a free 4-Part detailed tutorial study showing you each and every building step guiding you from Mr. Adrian's Ark kit to a fully finished Ark. HAVE A LOOK~!!!!
If you're interested in individual Ark kit parts (raw, untrimmed), and ENTIRE kit, or even fully finished gold plated version, feel free to email me.
CLICK ICON to view photos of a detailed tutorial on buliding the ark from this kit.
The basic kit includes:
Two Angels (solid resin castings, very crisp and detailed)

The Mercy Seat (lid) (consists of two very large thermal formed shells).

2 square story panels (resin cast)

2 rectangular story panels (resin cast)

4 feet (solid resin cast)

4 top ribs (sit atop the corner posts)

4 side posts

2 long gallery rails

2 short gallery rails

4 stave rings

4 stave ring spacers
The remaining materails (wood, plastic etc..) can be found at home depot.
An EXTENDED can include:
Pre-cut lumber needed for creating the trunk

Thick Plastic side panels (.125 thick) with the windows stenciled to make your cutting job easier
MEASUREMENTS:
The angels in this kit are 16.5" long from the tips of the wings to the back of the casting. The angel (base included) is 8.7 inches tall.
THe LID is 43" long, 25.5" wide, 15.5" tall including the angels
The TRUNK is 19.5" tall, 23" wide, 40" long.
So that makes it a total of 35" tall when assembled with the lid on the trunk. The weight of a finished ark is about 75 pounds.
Measurements needed during construction:
SQUARE PANEL specs: 15 3/8" X 19 5/8" (X2)
RECTANGULAR PANEL specs: 15 3/8" X 36 3/4" (X2)
LEG PVC: 3 1/2" O.D. cut to 10 1/2" lengths. (X4)
Stave rings: 2 3/8" O.D. cut to 1 1/2" lengths (X4)
TRUNK SPECS:
Vertical posts are cut out of 1 1/2" stock: 15" sections (X4)
Long posts are 36" long, cut from 3/4" X 3/8" stock
Short posts are 18" long, cut from 3/4" X 3/8" stock
Bottom Panel (cut from plywood) 18 1/2" X 36 1/4"
*note: Once you have this trunk assembled, all the other side panel measurements fall into place. Please refer to the detailed TUTORIAL for more detailed info.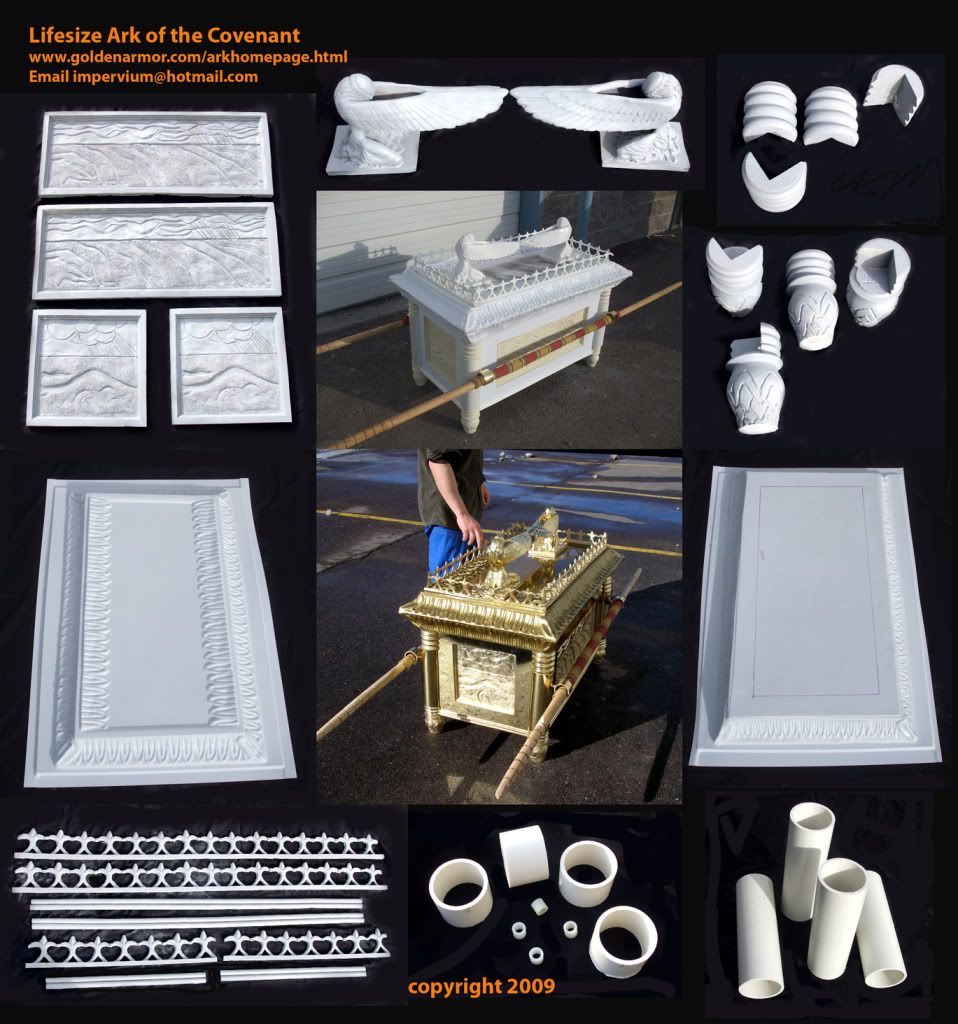 A KIT ark is carefully boxed and shipped via private freight carrier.
A Finished Ark is laboriously cared for during packing. The angels are separated and indivudally wrapped in bubble wrap. The lid and trunk are wrapped for protection. A special oversized freight carton is bolted down to a palet using plywood mounted to the interior of the carton.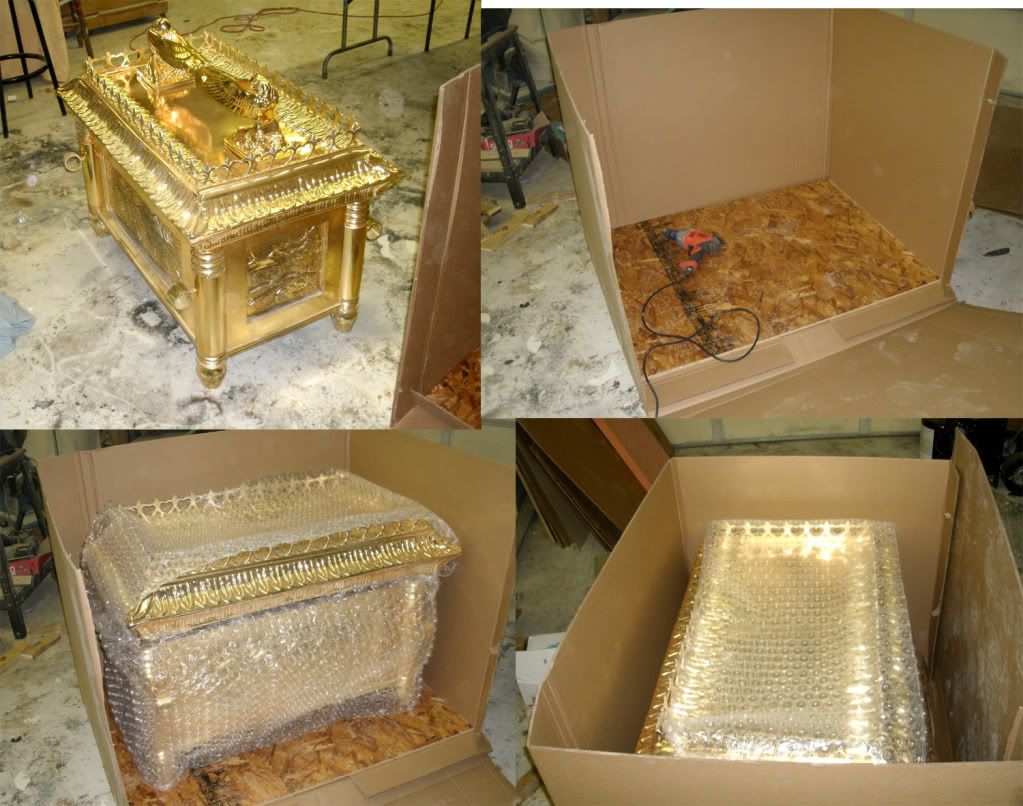 The carton is sealed closed and the entire void is filled with packing peanuts. The stave poles and fabric are protected at the top.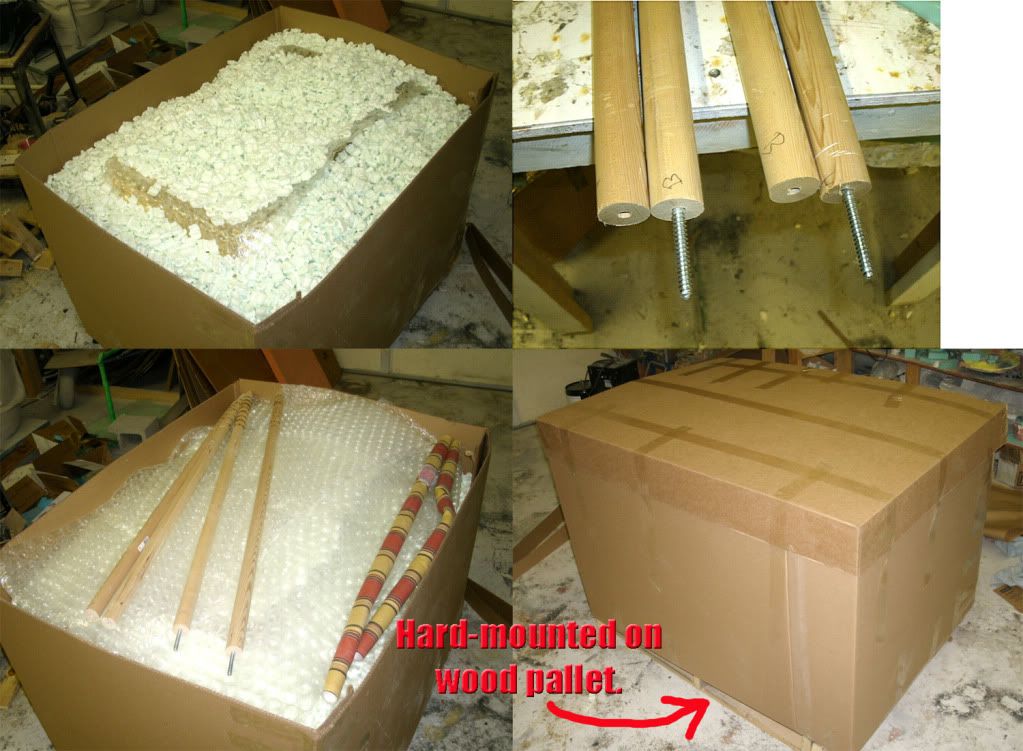 FULL PRICEGUIDE!!! UPDATED MARCH 2012
Ark of the Covenant Information

Before you begin, have a look at the 4 part video series that will guide you from my kit components to a fully finished Ark. This is the least expensive method of acquiring an Ark. The series starts here: http://www.youtube.com/watch?v=baGtdcsp2ew&feature=player_embedded (follow the links to parts 2, 3 and 4)

A VISUAL Ark-Building TUTORIAL is available here:
http://www.cristoferadrian.blogspot.com/


Thank you for your interest in the ARK OF THE COVENANT project!! You can see a video of a finished ark from these same parts here:
http://www.youtube.com/watch?v=AuUKcdEr9JU

The website homepage is here: www.goldenarmor.com/arkhomepage.html

In March 2012 several parts have undergone improvements and remasterings to ease the construction of your ark should you decide to acquire it in KIT form. It is also available in FINISHED form either in virgin raw surface, painted surface, or gold plated. *Ask for details

**PLEASE NOTE: anything that is described as a KIT means that the artist does absolutely no work to the pieces. They are cast from the mold and immediately set into a shipping box. You will need to trim the pieces, putty, clean and sand all the seamlines, assemble, detail, paint etc..

**Carpentry and modelling skills are highly recommended. The mercy seat is a 2 part thermal formed shell that requires some time and patience to put together.

Here are prices in KIT form.

­­­­­­­­­­­­­­­­­­­­­­­­­­­­­­­­­­­______________________________________

4 custom made pinecone feet including the bottom ribbing: $150 for the set of 4

Bottom bead ribbing trim (3 very long strips enough to cover the entire bottom panels $75)

Story panels (set of 2 rectangles, set of 2 squares) $215

Top ribbing components with corner cutouts to fit flush on a 90o angle (set of 4) $120

Stave rings (set of 4 cut to the proper lengths) $25

MERCY SEAT aka LID (this is the BIG one) - over 500 hours to construct with 264 lotus leaves lining the top surface, top layer, and bottom layer.
$395 for the thermal formed version

Gallery Rails $145 (uses a special high strength casting resin) Enough linked figures to produce 2 long sides and 2 short sides (46 characters).

ARK ANGELS: 195 each separately or $350 for a pair.

________________________________

If you decide to get ALL the above kit pieces, the price is discounted to $1,200 This price is firm. The cost of the materials is amazingly expensive and it is all hand-made.

This base kit does not include the lumber, hardware (bolts & screws) and flat plastic you'll need for the construction. All of those materials can be found at any home improvement center. Measurements for the carpentry phase are provided with each kit.

LUMBER
If you would like all the pre-measured and pre-cut lumber to produce the trunk please include $155. This includes ALL the lumber you will need ready to assemble except the stave poles which you will need to pick up at lowes (8-foot bed posts).


SIDE PANELS
The only other component needed is the flat material for making the smooth surface for the sides. Essentially you just need a flat surface that you cut 'windows' out of that the story panels show through. Styrene, ABS, Masonite, vinyl flooring, etc.. there are a number of options you can find at home depot.
If you would like styrene side paneling from me, please add $125 for all 4 sides, pre cut to the proper dimensions with the windows stenciled into position, you will need a dremel to cut them out by hand.


_________________________________________________________________

Measurements of a finished ark:

the LID is 43" long, 25 1/2 " wide, 15 1/2" tall including the angels.

The TRUNK is 19 1/2" tall, 23" wide, 40" long.

So that makes it a total of 35" tall when assembled with the lid on the trunk.

The weight (estimated) is around 75 pounds.
________________________________________________________________

FINISHING SERVICE

For a completely ASSEMBLED ark ready to gold plate, guild or paint, the price is $3,200

Painted ark 3,550.00

A GOLD PLATED ARK is 5,400. This is achieved through a state of the art goldchrome technique. The finish is absolutely astounding!


Contact impervium@hotmail.com for more information.


BACK TO HOME