WELCOME TO THE JUDGE DREDD ABC WARRIOR PAGE!!!! The kit you see here is modeled on the film-used skull and jaw. All the rest of the parts I built from scratch. ENJOY!!

**please note that this kit is 6 lbs shipped. They ship from California so shipping to east coast destinations can range up to $30 alone for postage.
The ABC Warriors followed the exploits of an elite team of battle robots that fought against the fascist Volgan Empire. ABC stands for Atomic, Bacterial and Chemical, the three types of warfare situations that the robots were designed to fight in.
CLICK PHOTOS TO SEE THE NEW IMPROVED MARK 3 BUILD-UP OF THIS MAGNIFICENT KIT!
Here's a magnificent build-up of this model kit by Mr. Randy Neubert of voodoofx.com
Some of the incredible detail of this prop!
AM SUPER PUMPED ABOUT THIS!!!! Here, finally, is the remastered and re-tooled ABC WARRIOR BUST KIT. (referenced from newly available photos of the screen used animatronic). Also coming soon is a fully detailed build-up tutorial VIDEO!! The tutorial will detail the trimming, cleanining, painting, assembly, weathering and as a bonus it will include instructions for electronics assembly and installation. Check back soon!!!!
UPDATE!! NEW KIT COMPLETED!!! It's a completely new kit, three times as many components to match the screen-used ABC Robot.
There is an OPTIONAL ELECTRONIC LED KIT for this kit. It is $25 with free worldwide shipping. It includes resistors, shrink tubing, on/off switch, battery clip, green LEDs and wiring. Here's the instructions for this kit:
UPDATE!!!
New cad files created April 2011 for the Remaster:
This is a lifesize ABC warrior from JUDGE DREDD. I was lucky enough to come across an opportunity to own the molds used to produce the film-used Head and Jaw. The parts are all cast in high impact plastic. Advanced modeling skills are recommended for this buildup.

The raw kit (you trim, assemble and paint yourself) is $295 and includes:
skull

jaw

2 red transluscent eyes

left temple insert

right temple insert

pistons

earcaps (2)

greeblies to detail the temples

collar (used to support the display)
The price of the new kit is uncertain and includes much more resin than the previous kit version. I will *try* to keep it under 300 for all the parts.
******NEW PARTS COMING APRIL 2011: Retooled eye sockets with eye controller rings. New accurate jaw and skull piston actuators. New collar wishbone (wider, longer, more accurate). Re-detailed temple insets for accuracy. Rear panel accurized on the jaw plate.
New completed parts:
The eyes in the above photos represent two different sculpts. I will decide which version suits the kit the best during prototype assembly. Also, the pistons in the photo don't represent a complete set. On the far right piston, there will be 3 of those included with each kit.
There will be over 2 dozen parts in this remastered kit coming by the end of APRIL 2011.
I have been working tirelessly for 3 weeks on this remaster. Below are a few photos showing progress:
And the reformatted master Jaw during modifications:
Mold box procedure for the remastered SKULL. (5.4.11)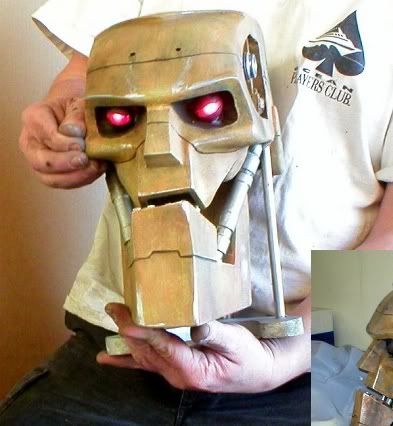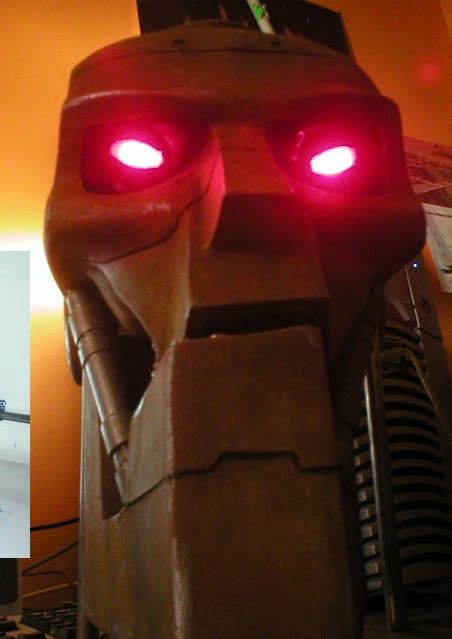 SIGN UP FOR AN INSTANT 10% OFF DISCOUNT!!
/p p
p alt=strong