Who couldn't love FARSCAPE? Such a wonderful show!! Great designs, awesome characters and performances, practical effects, great filmmaking. It was a triumph of a show that was ended much too early. Here is a replica of the DRD seen throughout the series.
GIGI EDGLEY (Chiana) with the DRD! Photo courtesy of Brian Simpson
Welcome HobbyTalk users!! Click down below to visit the Remote controlled version
YES!!!!!!! The Farscape lifesize DRD full length TUTORIAL is now here! Includes detailed LED install directions. The DRD measures nearly 9" wide and 12" long.

FARSCAPE, in my opinion, is one of sci-fi channel's GREATEST ACHIEVEMENTS.
What a wonderfully creative show and what awesome eyecandy! Gotta love the Henson Creature shop! In the show, the DRD robots are maintenance/repair droids and serve, often-times, as comic relief. This is a LIFESIZE recreation of these whimsical robots!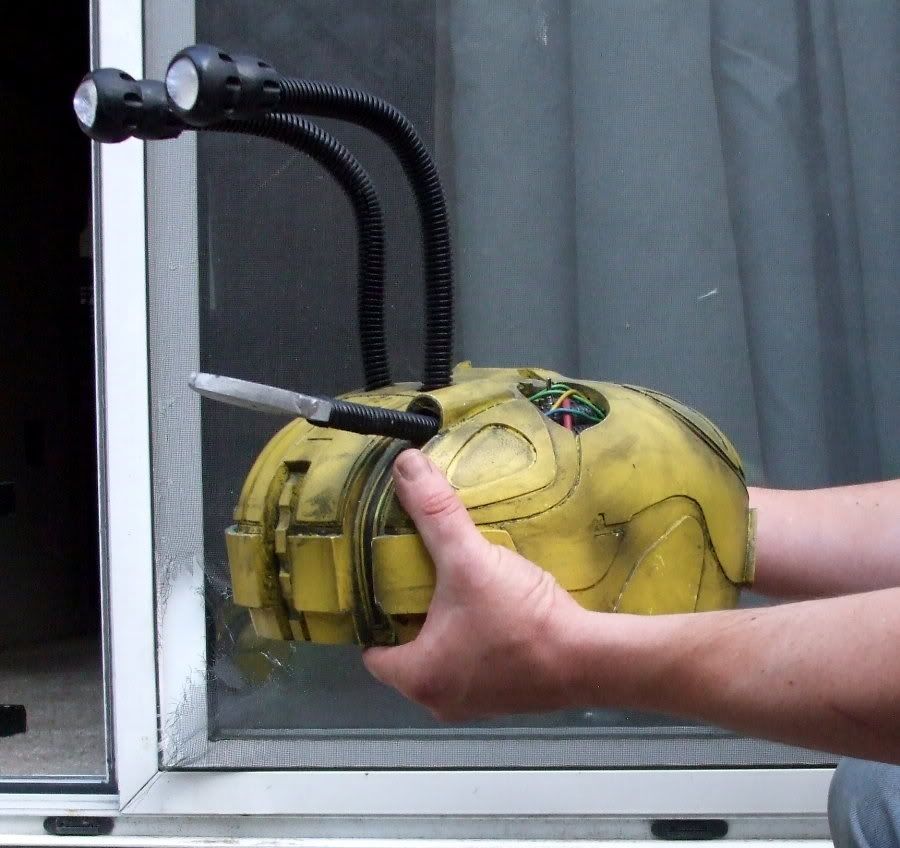 Please allow a minimum of 3-4 weeks for shipment after order.

When I made this DRD, I installed LEDSs in the eyestalks and hid the on/off switch in the open panel 'guts'.
The DRD kit is made of:
The body shell (hollow cast fiberglass and resin) The cavity is large enough to accommodate an RC car or truck
2 eye stalks (ribbed plastic)
2 eyes
2 clear lenses
Claw (2 parts)
claw stalk (ribbed plastic)
wires and extra material to create the electronic innards.
The hollow tube metal armature (see the tutorial) is not included in the kit. You can find the same material at home depot or lowes.
Because there are wire armatures in the eyestalks, and the claw/grasper,
they can be posed in any configuration. Up/Down/sideways, any which way you want and they will hold the pose. There is also enough interior space to install a radio controlled car or truck to automate the DRD via remote control.

There is an OPTIONAL ELECTRONIC LED KIT for this kit. It is $25 with free worldwide shipping. It includes 2 resistors, shrink tubing, on/off switch, battery clip, 2 hyperbright white LEDs and wiring. Here's the instructions for this kit:
The sample showing below is the FULL electronic buildup including eye lights, the bottom ring of lights and remote control feature.
You can go all out deluxe and custom build an RC chasis to power your DRD. Parts avaialble at servocity.com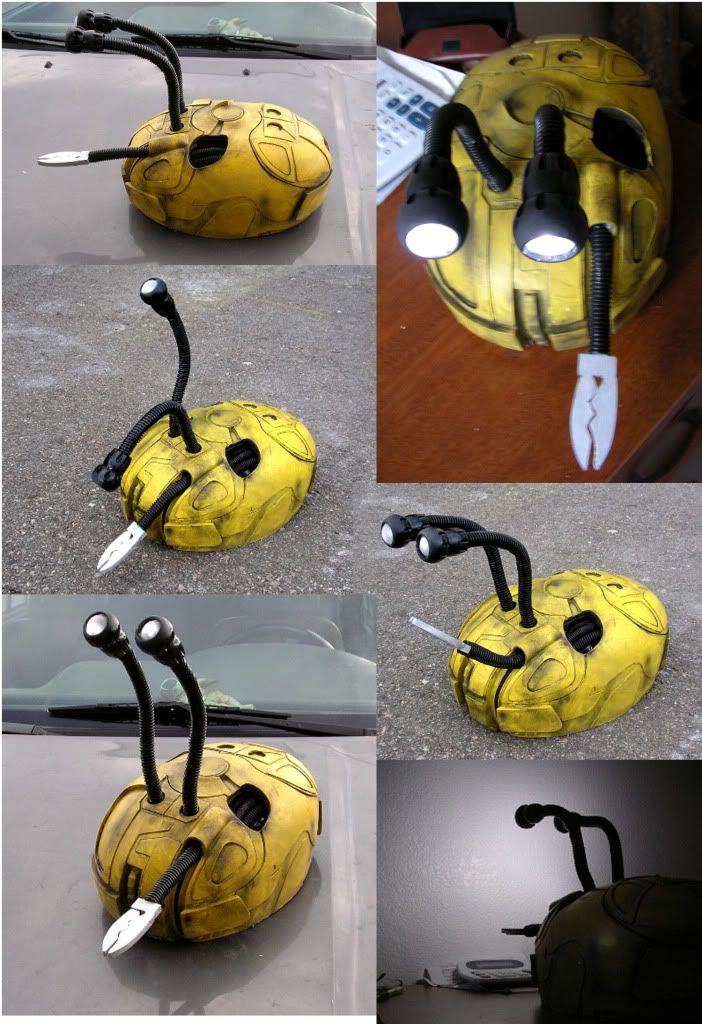 CHECK OUT THE BACK TO THE FUTURE LIFESIZE HOVERBOARDS!!!