Be sure to click the F/S Page!
This page contains two prop items so please be specific when emailing. The first is the LOKI MASK (looks like wood). The second is the MASK BUST (facial prosthetic casting). Thanks for visiting!!!!!!
2017 UPDATE! On request, I will paint the loki mask in either paintscheme you'd like. The muted, more screen accurate version with the dark nose crest and muted wood grain colors, or the previous version. Your choice! Both versions are seen here:
Loki Mask
This Loki Mask is cast on a hero mask used in filming the awesome Jim Carey film: The Mask
It's cast in solid high impact urethane plastic and painted in a 5 stage, 9 color process. The casting is super crisp and detailed inside and out. Enjoy these photos:
The mask is cast in SOLID high impact urethane. A wonderful gift piece. The raw KIT is $79.95 (you trim and assemble on your own)
Here's a few painting tips:
Now available with less light green and brown striations, and with a dark nosecrest. Your choice of paintschemes at no extra cost. OR BUY A KIT and paint it to your own liking.
The Mask Prosthetic Makeup Appliance
This is a casting on the film-used prosthetic appliance Jim Carey wore in The Mask.
The raw kit looks like this. It's cast from the mid ear-line to the front of the face (back of head not included).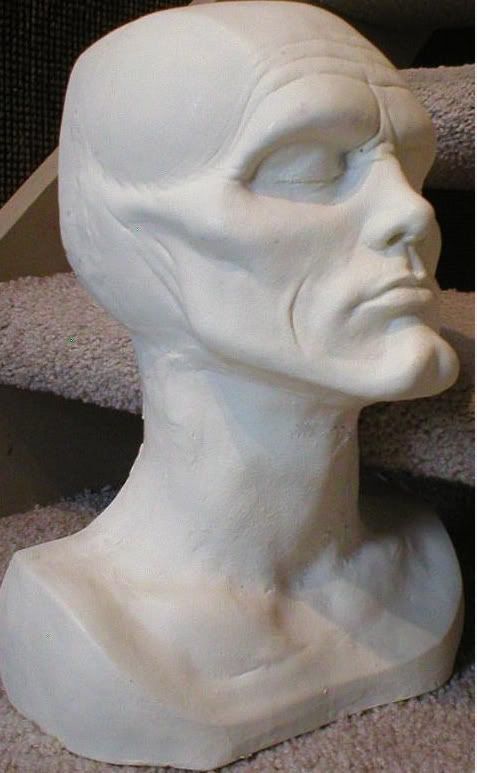 If you're interested in PROSTHETICS, please visit the CREATURES PAGE!!
VISIT THE FREE DECALS PAGE

STUDIO SCALE FILMING MINIATURE TUTORIAL SERIES
CLICK THUMBNAIL FOR ARCHEOLOGICAL ARTIFACTS!
SCI FI AND CUSTOM BUILD WEAPONS
CUSTOM FABRICATION SERVICES