NEW!!!!!!! VIDEO TUTORIAL AVAILABLE!!
STUDIO SCALE NARCISSUS. Here's The measurements of the NARCISSUS: 24" (61 cm) Wide, 29" (73.6 cm) long
**update: NEW 2015 decal sheet updated!!

NEWS!!! SUPER DELUXE EXTENDED DECAL SHEET NOW INCLUDED IN THE STUDIO SCALE KIT. INTERIOR KIT COMING IN 2016
Sample builds of this kit: (interior cockpit and canopy framing details scratch built by the builder.)

There is an OPTIONAL ELECTRONIC LED KIT for this kit. It is $25 with free worldwide shipping. It includes resistors, shrink tubing, on/off switch, battery clip, green LEDs and wiring. Here's the instructions for this kit:
CLICK THIS PAGE for a full tutorial

"In addition to adding many many detail pieces for added accuracy, I adjusted the nosecone is several ways, firstly, I separated the 8rad tank part from the casting, bought the tank kit, and cast the specific piece separately so it's clean as possible (pressure cast), I also adjusted the nosecone width and girth so it fits the body much cleaner. I retrooled the engines, added a second option for the side locking clamps, have decal graphics for it now, etc.. etc.. Just a wonderful kit. The body is cast directly on the model built for ALIENS and to preserve its authenticity left many of its traits, so to get it perfectly perfect you'll still need to head in and sand some of the high and low spots on the panels."

These are the decals for the Narcissus. They were designed and created in Spring 2011. You can print them out on decal paper and apply them to your model.
Below you can see photos of the SPRING 2015 re-issue of this beautiful studio scale kit. The body and details are a mix of the model built for ALIENS and the model built for the original ALIEN. A full buildup tutorial will be following soon.
NEW DETAIL PARTS for the 2011 remaster and updated kit:
The Narcissus is an absolutely BEAUTIFUL MODEL!!! Enclosed are photos of the kit remastered in 2010.
The 2015 REMASTER/RETOOL kit consists of:
The main body (hulls cast in one piece)
the nose (consists of 3 separate parts (8 rad) now for cleaner detail)
4 engine bells (re-shaped, shortened in 2011)
2 rear detail blocks (re-detailed for accuracy)
set of 2 underbelly fins
set of 4 side laser cut detail plates
canopy material
canopy template
side locking clamps (2 versions included)
set of 4 adjustment thrusters
rear body plate
top docking clamp (for building an ALIEN version)
under hull engine housings (2)
DOZENS of small greeblie detal pieces
WATERSLIDE decal sheet
CLICK ME TO VISIT THE 2011 RETOOL OF THE ABC WARRIOR ROBOT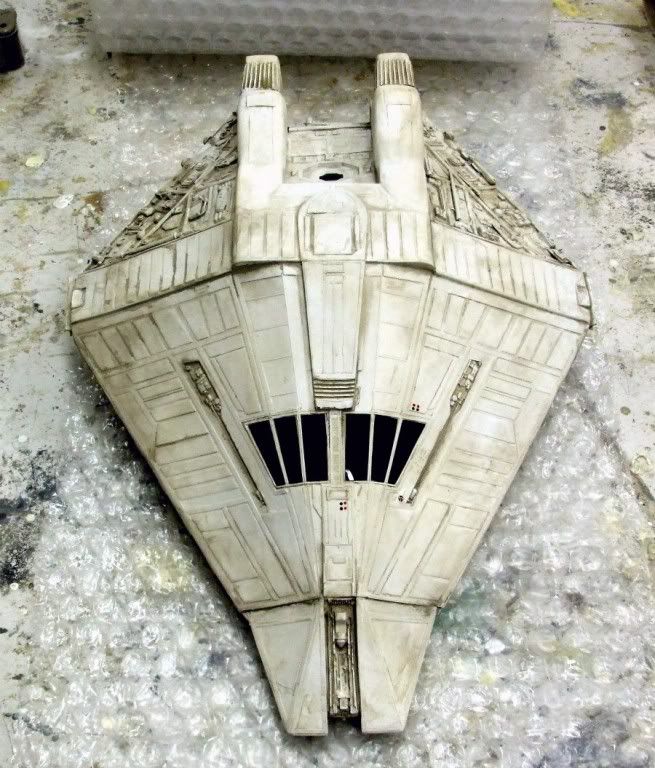 This model is about 1:35th scale.
In 2010, I added some new detail pieces to this model. If you order a kit you will get these new parts in your kit. They include: 4 side vent detail sheets (made on a laser cutter), and two underbelly fin pieces (also from a laser cutter). I haven't yet finished the new buildup using these parts but check back again here to see updated photos.
A great 3D rendering of the Narcissus on youtube:
ALIEN FANS - CHECK THIS OUT!!!
Email impervium@hotmail.com
Visit Phone Home One